TELUS
Business Mobility
Cell phone, tablet and mobile plans.

Business mobility devices, plans, and connected technologies
Keep your business running with reliable coverage and unlimited data, plus devices and mobile internet to take your workplace with you.

Cell phone plans for your small business
Flexible plans to save owners time, money and headaches. Get up to 1Gbps speeds with our Unlimited 5G+ for Business plans on the Fastest Mobile Network in Canada, ten times in a row. Plus, save up to $300 per line when you switch to TELUS.

Tablet plans for your business
Whether you bring your own or purchase a new tablet from TELUS, our tablet plan options give you even more connectivity on the go. Unlimited data options start at $10 a month.
Travel light, be cost-effective and ultra-productive on the road with business tablet plans that make it easy to work from anywhere.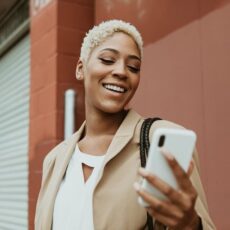 Mobility offers and deals
Discover the latest deals for your business, including discounts on the newest smartphones. Enjoy big savings on certified pre-owned phones and using the TELUS Bring-it-BackTM program.